EasyCrypto10 and the EC10 Index
EasyCrypto10 / easy crypto 10 / EC10 has made investing in cryptocurrencies easier and simpler – especially for people who are not tech-savvy or understand the intricacies of blockchain.
As many people wonder what is really going on under the hood, I wrote this post to better understand what EasyCrypto is doing, how it works – and some things about investing in the fund.
Without further ado, let's get into what EC10 is.
As a caveat – I am a software developer by experience and not a crypto expert. I understand under the hood how the technology works, but am in no way an expert on crypto technology or able to give financial advice. Please get a second opinion!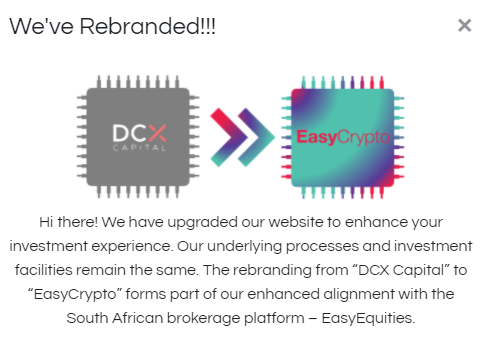 What is EasyCrypto10/EC10?
According to their Twitter account, EC10 brand itself as the "EC10 Top10 Crypto Index". In short, you hand your money over to them, they invest it in crypto and you can withdraw when you want to.
So, what they basically do is they take your money, turn it into cryptocurrencies that they manage and rebalances the fund every week. Wow, that's a mouth full.
This is similar to a unit of a unit trust – where you can buy the units. This in turn was invested in cryptocurrencies. When asked for feedback, EC10 kindly supplied the following feedback:
EC10 … was initially labelled and marketed as a token but we migrated from the token model to a bundle model which we feel is better understood.
From the below screenshot, you will see the data as 2021/05/10. The latest can be found here.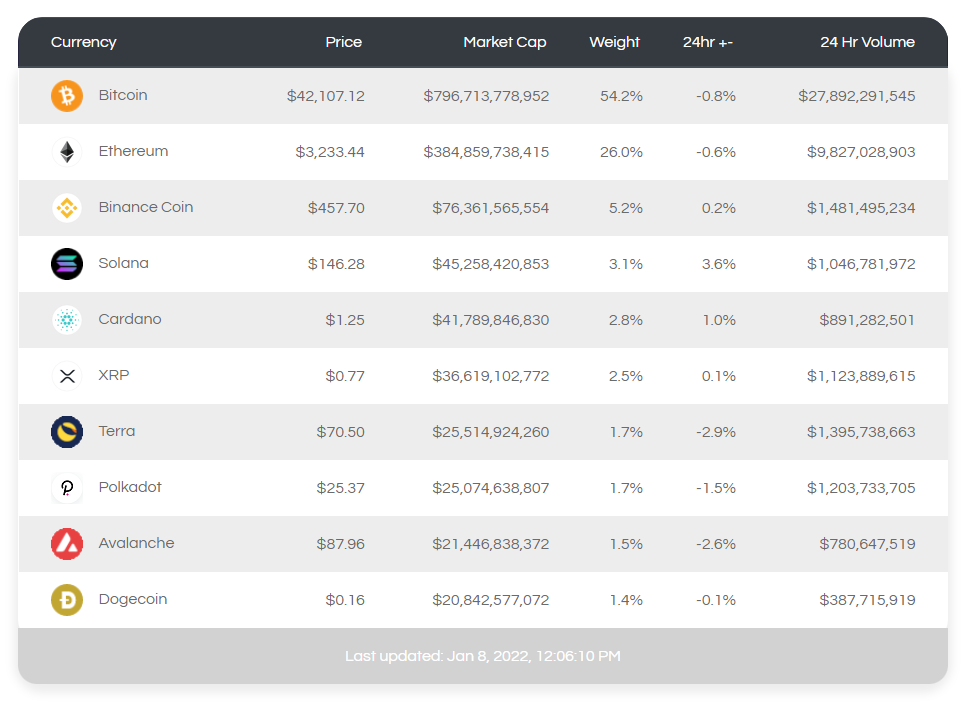 Indexes and ETFs for cryptocurrencies
To make it easier to understand EasyCrypto10, let's talk about indexes and ETFs. Indexes are rule sets. These rules are applied to the market, and the result is qualifying stocks, cryptocurrencies or bonds.
If something is not valid according to the ruleset, then it gets sold and the next best thing is bought. This is called rebalancing or sometimes referred to as re-indexing.
Let's apply this to EasyCrypto10 for a more practical example.
The EasyCrypto10 index
In the case of EasyCrypto10, their ruleset is defined here. In short, these are the highlights:
They look at the top 10 cryptocurrencies by market capitalisation (market cap).
The weighting is calculated as a percentage of market cap.
Boardmembers can veto the rule of top 10 cryptocurrencies.

HOLD ON.
Does that mean that the board members can veto any crypto in the top 10 or any rule in the index? Short answer:
YES.
The Committee meets monthly on the 20th of the month… [to] …Review and approve new methodologies or changes to existing methodologies to the EC10 Index

– Index rules, link here
This is also not without reason. For example, XRP is definitely in the top 10 by market cap. Yet, as quoted by the believable Wikipedia:
The U.S. Securities and Exchange Commission (SEC) initiated legal proceedings against Ripple Labs, CEO Brad Garlinghouse, and co-founder Chris Larsen on December 21, 2020, for allegedly selling unregistered securities.
The index was thus altered by a committee to exclude XRP. Dogecoin was also excluded as it was 'dodgy' without any real use. It was only recently added, in spite of having a market cap well within the top 10 – previously excluded as being "without use" and only a "meme coin" – and added now after public outcry.
The EasyCrypto10 index tracks the live data but reindexes every Sunday evening.
What is the EC10 token?
Previously, DCX had an EC10 token, but this has been discontinued – you know own the crypto itself when buying EC10. ​
EC10 etf?
The quick answer is no. Words like funds, ETFs, unit trusts, etc. are generally viewed as regulated, whereas EasyCrypto10 is not regulated. The word "bundle" is thus preferred.
How is the EC10 price determined?
The EC10 share price is determined by the constituents and is weighted by market capitalization. This means that if Bitcoin has a 54.2% share of the biggest 10 cryptocurrencies, then a rise/fall of BTC will have a massive impact on the EC10 share price.
Many people try and predict the price of shares and crypto, but with sudden historical crashes in the crypto market, this is exceptionally difficult to do. We do know that the crypto market is exceptionally volatile and can fall 40% in less than an hour on hearing bad news.
With that in mind, it makes sense that EC10 predictions are quite challenging – if not impossible. We know that it is linked to the top 10 cryptocurrencies, and thus will fluctuate with these. Here are some things that will affect the price of cryptocurrencies and EC10:
Cost of production: Many cryptocurrencies halve in production via mining on certain dates. This causes it to become less profitable to mine over time
Supply and demand: if check the liquidity of a cryptocurrency. High demand and low supply will make the price rise.
Regulatory developments: China's crackdown has had a massive effect on BTC prices and other cryptocurrencies
In my opinion, doing an EC10 share price forecast is very very challenging, but with researching changes in the crypto market and in the news, one gets closer to understanding its movements. If you're an active trader, it might be a good idea to check the ec10 share price today (and every day) after logging in.
Legalities and regulation
Cryptocurrencies are not regulated in South Africa. According to this post by Earle Loxton, EasyCrypto10 is not currently regulated – but we know this already.
He did say they are busy migrating to a regulated custodian – "an independent storage and security systems used to hold large quantities of tokens" according to Investopedia, which should make the coins a bit safer. There are currently no details on what this means to the normal investor.
As there is no regulatory body that you can verify the AUM and audited results, it does cause some concern if they really do hold the crypto assets. Before recent storms, this was much a total black box – we had no idea what was going on inside of it. It has in recent weeks become more transparent, with allocations and rules being better defined.
There are certain things we still don't know or have clarity on – so the black box is shrinking, so to say.

It's important to be clear here – we don't have any facts yet on if EasyCrypto10 actually holds the underlying crypto. We know the EasyCrypto10 token is on the Etherium blockchain and that we have numbers on their website. We will in this financial year see more details about audits and verifications as cryptocurrencies and crypto funds become more regulated.
Having said this, we trust EasyEquities – and they have an excellent relationship with EC10.
EasyCrypto10 Fees
Fees can have a huge impact on your return on investment. Comparing EasyCrypto10 with other ETFs such as the S&P500 and MSCI World, the fees are comparatively high.
EasyEquities broke down their fees as per below (link here):
The fees that you would pay on the value of your transaction are:
Our normal 0.25% brokerage
Settlement & admin
VAT
IPL
NO securities transfer & tax
This works out to about 38c on R100 investment
EasyCrypto10 also charge fees (link here). Note that if you buy directly through EC10, there are additional fees:
2% per annum fee of entire fund value
Concerns answered
Many of the concerns of people have been answered, and I want to give a broad overview of these
Previously there were only 2 board members (Michael Jordaan and Earle Loxton) who decided which cryptos get added into the EasyCrypto10 fund/bundle (see link here, recently changed), yet the new PDF document has added more board members (link here). It seems like more board members were added after the concern was raised.
There were questions if EC10 really did own the crypto assets. It was even suggested that they publish the wallet numbers. However, I really don't blame them for not putting those in the public domain – it opens one up to hacking and other issues.
Questions to the founders
I asked a few questions to Earle Loxton about the concerns that I had – you can check his responses here (PDF link) – some interesting viewpoints on a fund fact sheet, company registration details, etc. found there!
After my communication, I know some of these answers will change – and I look forward to a more transparent business.
My EC10 token review – risks and rewards
Though I love EasyEquities (and know they have an interest in seeing EasyCrypto10 succeed), I cannot deny having a slight concern about a few things with regards to EC10 – many of them come with the territory.
Allocations and (actually) buying the crypto surely has to happen, especially if you have big names such as Michael Jordaan involved. I do have a concern about the index and the powers of the board. Basically, with traditional indexes, the board decides on the ruleset. With EC10, the board members are able to veto the ruleset. This is seen with e.g. Doge coin as stated above.
It doesn't feel right to call it indexed. For example, the index rules are to follow the index – unless the board disagrees. Concerning the "reindexing", I would rather refer to this as 'rebalancing' of the portfolio. But that's just technical branding. I am also aware that EasyEquities and EC10 are removing sections where EC10 could be misinterpreted as an ETF – which it is not.
As I am allowed an opinion, it sounds much more like an actively managed fund – people decide what to buy and what to sell – with constraints.
I do however think the product is well structured and has application. Though this does not fall into my financial plan, I do think that for some people who want a well-diversified portfolio with some higher-risk assets, cryptocurrency does make sense.
Do I think that EC10 is a cool product? Absolutely. Do I think it comes with risks? For sure! I don't recommend people to invest their life savings in crypto or any single vehicle – whether regulated or unregulated!
Public relations and latest changes
In April of 2021, some of the more informed traders have uncovered some concerns about investing in the EC10 crypto index (and fund). The owner of the index at the time, DCX made quite a few PR blunders in trying to handle the situation. So much so, that I wrote an article on LinkedIn about how to better handle these types of blunders!
As of 2021 middle, EasyEquities bought a 51% stake in the company and rebranded it as EasyCrypto10 / EC10. You will find that the parent company's website is no longer live, and all links redirect to the EasyCrypto.co.za website.



EC10 news
EC10 reindexes every week, and thus it is safest to get the latest data from their website here. There is also a section on the EasyEquities blog on what is moving the EC10 index here.
Conclusion
Do I think that EasyCrypto10 is out to cheat people? No.
I think they have a solid business case, a good business model and the contacts to pull off an amazing product offering and add value to their clients in an unregulated industry.
It is, however, advisable to tread carefully when dealing with unregulated, high-risk assets.
If you want to add some crypto into your portfolio from your fun fund, that's awesome!
Happy investing!
Sources consulted