I recently assisted my retired dad to book a flight from Johannesburg to Cape Town – naturally, I opted for a price comparison site, as the aim is to give you the best deal. How disappointed I was when I started doing the bookings. I decided to run the query directly on the partner's websites. It seems like it was substantially cheaper to book directly! Before we look into the comparison, let's first unpack the complex affiliate programmes and white-labelled service approach of the industry.
How do price comparison sites work?
Price comparison sites do what the name says – the site will compare different offerings from different providers with the parameters that you specify. For example, if you're looking for flights from Johannesburg to London, you can enter the dates, number of people and other information and get a list of deals that fit your schedule and pocket.
It is also convenient, as you only have to enter details once. It is worthy to note that these sites do not return the best deal in the world. Providers need to subscribe to the service offering of the price comparison site.
How do price comparison sites get you the best deal?
While you wait, the site will fetch details from all the relevant sites – and display them on a single page. In the background, the site does code API calls to multiple servers to get the deals.
But how do we know if it is truly a good deal? Let's dig into how the process works under the hood.
We know that some industries inflate their prices on higher demand. For example, if more people search for a flight between Cape Town and New York, the demand rises – as does the price. In the US, many people will tell you that the sites there use cookies to check if you're a returning customer. If you are, then you will be charged more. For this reason, many people search in incognito mode.
Company subscribers could easily use the information in an unethical way such as cartel behaviour or pricing themselves comparatively cheaper than their competition. No case is a better example than Hippo.co.za.
Price comparison sites – a sales funnel for their own products
Did you know that hippo.co.za is owned by Telesure? Telesure also owns First For Women, VirSeker, 1Life, Auto & General, Budget Insurance and DialDirect. Now, imagine that you're looking for a comparison of quotes from different providers – and voila – 60% of the quotes are from Telesure. Though unethical, it makes sense that they would want their own companies to subscribe to their own service and offer you the 'best deal'.
We know that Telesure was previously fined R 1million by the FSB for not disclosing that most of the companies are owned by them. In my opinion, few people actually know the reality of 'who-owns-what' – making consumers gullible thinking they have a choice.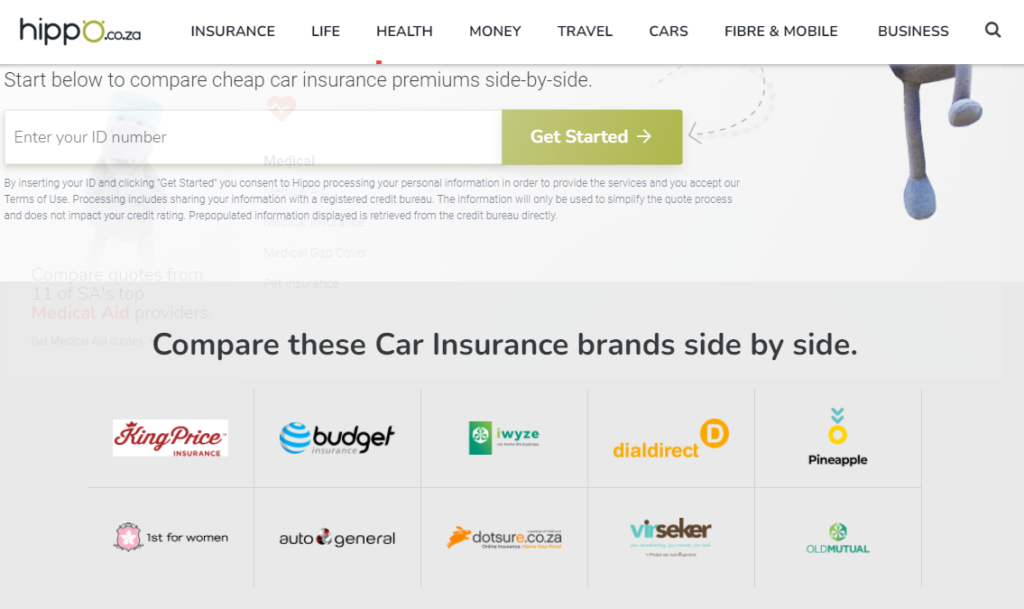 Car insurance and price comparison
The car insurance industry is fiercely competitive. For example, Google Ads for car insurance can run into hundreds of rands for a single click. We also know that the insurance business model is all about subscription – and the reluctance to change insurers often.
Price comparison sites attempt to digitise a very elaborate process – generally, the sales chat for getting a car insurance quote is 45 minutes to an hour. Doing this with multiple companies can take much of your time. It might also be frustrating to negotiate and navigate around the big terms and conditions of each of the insurers.
As long as you are aware that price comparison sites might take your details and use them for their own insurers – it's all good! I personally do like Naked Insurance, because no other insurer has been able to beat their price – and I do everything through their app.
Comparing car rental and cheap flights – what's the catch?
With the flight I had to book for my dad, we found that TravelStart attempted to upsell us on expensive insurance policies. They also charged a 'fulfilment fee' on checkout for using a credit card that was just shy of R 100. all of these extra fees, made them much more expensive than going directly to the company themselves.
From personal experience, I find it more profitable to use price comparison sites as the base and then access the sites directly through incognito mode.
BetterBond – do you really get the best deal?
Though a mortgage origination site, it is worth mentioning that companies such as BetterBond also offer a free service where they get you quotes from different banks. We know from StealthyWealth, you could often get a better deal going directly to your own bank.
Note that you can actually use a mortgage originator to go to your bank for a quote, as well as submit your own application – it's 100% possible!
Monetizing of price comparison sites
Price comparison sites have different ways they monetise their business. Generally, they will get kickbacks from the subscribers. For example, BetterBond gets kickbacks from the banks and hippo.co.za gets kickbacks from Travelstart.co.za. This, in essence, is a glorious form of affiliate marketing.
Quite often, the money received from kickbacks is not enough. Companies will start combining other forms of value to offer the client other things. For example, TravelStart offers car rental – but they upsell you to use their own insurance partners that give them bigger kickbacks. If you do business with Betterbond, you will get a call from BetterSure for homeowners' cover and insurance.
Upselling is not the only way used to make more money. In some cases, bad UX/UI is used to trick users in spending more – as was the case with the recent flight booking. An example is how sites have different options checked and unchecked. For example, luggage insurance is automatically excluded/unchecked, but airline bankruptcy is automatically included/checked. They also use checkboxes, radio buttons, dropdowns and other inconsistent mechanisms to confuse users – hoping that they will click the wrong thing – so that they can make more money.
Conclusion
Being frugal, I know that it's important getting the best deal for myself. I also am cognizant of the fact that companies will do anything to upsell you and make more money. Whether you're looking for flights, car rentals, insurance or consumer goods – always do it with due diligence and care.
The R 1000 saved by going directly does add up.
Happy investing!