Buying the holiday without the price tag
Everyone wants to own a holiday home, but cannot afford the price tag. It's an extremely expensive and difficult process to find the place that you want, and then you only use it for a week or two a year. Imagine you're able to buy a holiday home for only two weeks a year? This is what timeshare allows for – you can buy a property, or a specific period of time at a resort or at a similar location.
Timeshare is all about buying holidays in regular intervals – mostly done annually.
A condensed history of timeshare
Just after the second world war, some families in the UK had the above problem – they wanted a holiday home, but it was quite expensive. Four families would join forces and buy a property together. Each one would get one season to use the property. This would be rotated annually, meaning one family would get all the seasons in a four-year time span.  
Companies caught on to this idea and realised that they could sell 50 weeks a year to 50 families. Two weeks will then be left for maintenance. These companies owned multiple properties and multiple resorts, making it convenient to swap to a different resort if your first choice was already booked.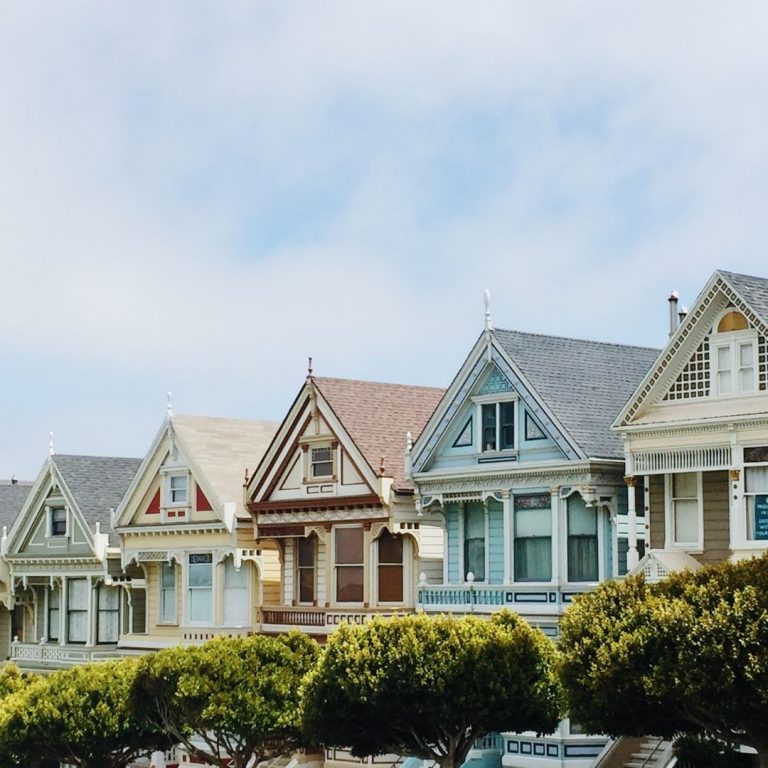 Ownership – Who owns what?
When speaking to timeshare companies, it can be challenging to get a real answer about who has ownership rights to the property, resort or facilities. Here is a breakdown of ownership types in timeshare.
Partial ownership, lease and right to use
Traditionally, a fractional/partial ownership model was used – the owners would be jointly responsible for the maintenance, bills that had to be paid and other fees. If the property is a deeded ownership, it means that your name is on the property in the deeds office. I haven't seen many of these cases with timeshare companies in South Africa, but it is possible. As a partial (deeded) owner, the owners would jointly be responsible for any bills and expenses.
In other cases, you get to lease the property for the time you've bought it. Look at it as a recurring short term lease – it is still owned by the timeshare company. 
The paperwork signed could also be a right-to-use contract. This means that you might have the right to use the property for a certain time, but will return to the original owner after a certain time. This is similar to the 99-year lease model.
Fixed and floating ownership
Many people are able to plan their holidays. For example, every year, the building industry closes down in mid-November. It would then make sense to have fixed ownership, as they are able to own the first week of December every year at the same location.
In other industries, you need to book your leave six months in advance, and you might not get the same week every year. In this case, it might be more valuable to have a floating ownership model, where you can book your accommodation in advance.
Rotating of flex-week ownership
It might not be your ideal situation to have a fixed or floating ownership contract. For example, the venues could be overbooked in summer and you would like a bit of everything. Depending on the timeshare company, you might be able to have rotating ownership, meaning every year, your timeshare will be at a different time/season. This means that you will get your share of all the weather throughout the year over time.
Note that though the name implies it being flexible, it definitely is not! If you're not able to use your allocated timeslot, you'll lose it!
Other ownership opportunities
Imagine you're interested in a big event that happens at a location every September. Depending on the organisers and calendar, this might fall on different dates. If you have this type of ownership, you can book the location for a certain event every year.
For example, the Nedbank Golf Challenge at Sun City happens in either November or December. If you own that week, it will never be given to anyone else during this time.
The points system
Most people find it challenging to get leave for a specific week, such as the requirements of rotating or fixed ownership. Being aware of this problem, many companies opt for a points-based system. A client will basically buy points from a provider and will be allowed to use these points at any of the eligible locations. 
For example, RCI has about 313 holiday destinations in Southern Africa, with 301 in South Africa. You can use your points at any of these locations.
The way the points work are sometimes difficult and unclear. For example, during school holidays, certain locations cost more points, whereas, during winter, locations at the beach tend to be cheaper. In many cases, the points required at some of the locations are more than the package that was sold. This means that with lower packages/points, you might have only a handful of options to use.
Sales incentives
To get people to partake and buy a timeshare, many companies will go out of their way with free gifts such as toasters, kettles or other small gifts. In South Africa, the vacation resorts tend to give away a free (or discounted) weekend at the resort with a mandatory presentation with the aim to upsell.
Timeshare and pricing
In the 1970s, three payments were generally made:
Property ownership or joining free
A per diem (per night) fee (at the time in 1974 it was $15) and
A fee if the client decided to use it at a different location ($25 at the time)
Today, it's not unheard of to see the following fees:
Membership Fee – this is generally for holiday clubs that sell points that you can use
Ownership levy – this is payable by all owners for upkeep and management
Monthly finance fee (if this is done as a loan)
Monthly subscription fee
Here is an example of one points-based timeshare company I found – Dream Resorts. The pricing starts at R 19 500 for the membership fee up to R 292 500. The minimum fee (if paid cash) for the smallest package is R 381 for the subscription fee.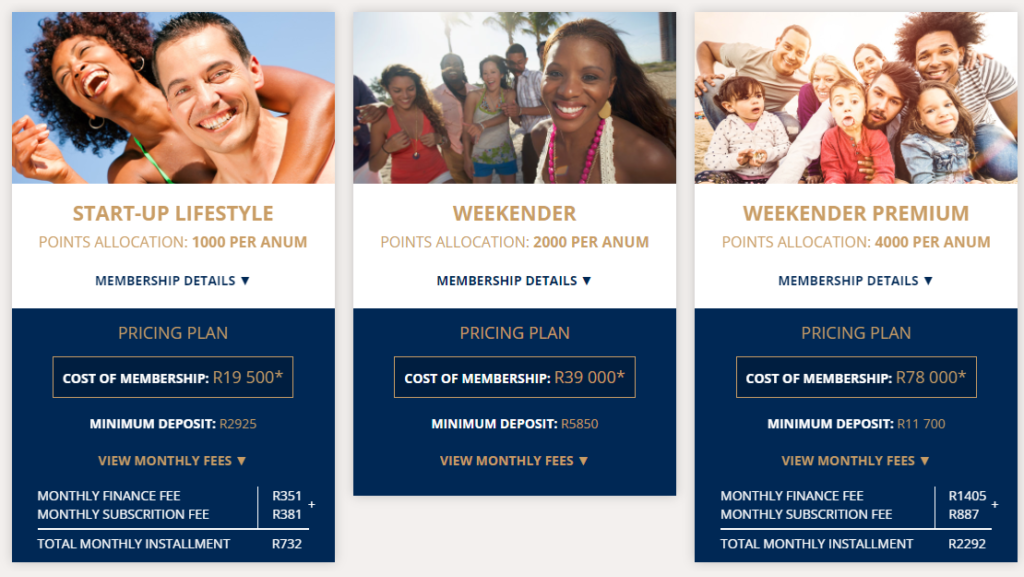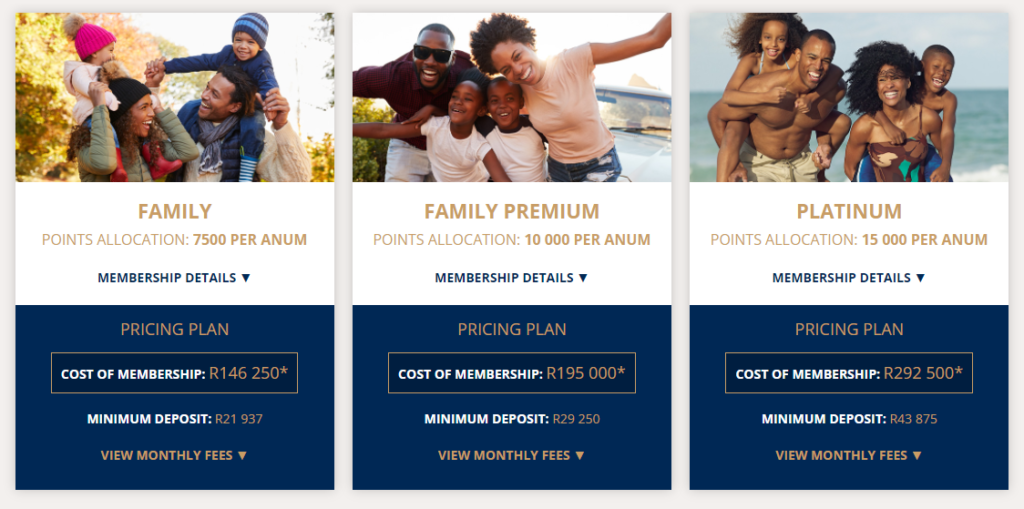 From my research, I cannot see any per diem fees or changing of location fees, but wouldn't be surprised if there will be extra fees payable. As this industry tends to thrive on spur of the moment sales and adding pressure to close the deal, it's worth reading the fine print of the contract before it is signed.
Timeshare cancellation
Timeshare can easily become a burden, and you might want to get rid of it for many reasons:
As consumers often get hyped up to buy timeshare.
Escalating monthly fees can make timeshare unprofitable
Life circumstances change and you are not able to use the timeshare anymore
Cancelling just after you bought timeshare
The South African Consumer Protection Act (CPA) allows a period of 5 business days within which you may cancel your purchase. This means you're able to cancel your purchase within five business days, in case you don't want it anymore. 
The Ombudsman of Consumer Goods and Services says that a notice of cancellation must be issued in the form of an email, and to avoid later problems, a registered letter should also be sent to the timeshare supplier's address.
The resale market for timeshare
When considering selling, one should consider the cost of credit. For example, if you paid R20 000 for timeshare and R 17 000 for interest, you need to get back R 37 000 – not including the monthly fees and levies. Note that the loan needs to be paid in full before you can decide to sell or give away your timeshare!
It often happens that you will only get a fraction of your money back when selling your timeshare. There are cases of people getting 15% of their initial 'investment' back after selling it!
As you might have guessed, the supply of timeshare far outweighs the demand. This puts people wanting to sell at a disadvantage.
Many companies that sell timeshare will make promises of big profits when selling your timeshare. these companies charge upfront fees, and hardly ever deliver on their promises.
The Vacation Ownership Association of South Africa (VOASA)
The Vacation Ownership Association of Southern Africa (VOASA) is a trade organization with the objective to promote the development, communication, improvement and growth of a stable and sustainable shared vacation ownership industry and trading environment.
Though difficult to regulate, there is a body that many of the timeshare companies belong to. The VOASA has a code of conduct and is part of the Federated Hospitality Association of Southern Africa (FEDHASA) and the Tourism Business Council of South Africa (TBCSA).
It is recommended to find members of VOASA to buy timeshare if you would be interested in buying.
Complaints of members can be submitted through their website here.
Issues with timeshare
In my opinion, the timeshare industry has a broken business model that often adds little value. Here are some of the concerns and issues:
The holidays are often overpriced, even in the low season.
Availability is often a problem with regard to dates when you want to take leave.
Timeshares tend to depreciate as soon as you've taken ownership. 
Timeshare is often an impulse buy – you buy it when your defences are down.
The maintenance fee/yearly fee tends to increase by more than inflation. Quite often you could stay in a decent hotel for the price of the maintenance fee alone.
Timeshare also does not generate income – it's not an investment, but rather an expense
Timeshare isn't liquid – you can't just sell it on the market as quickly as you bought it
Conclusion
If you buy timeshares at a resort or buy points from a holiday club, you need to be very, very careful and read all the terms and conditions. Take the time to read the terms and conditions and understand:
All costs involved, including once-off and monthly fees as well as escalations of these recurring costs
What you will be getting for your money – what you can get for your points during the season that you normally go on holiday
Exit strategy – how will you exit the timeshare agreement and if you will get a return on your initial amount.
Don't ever buy timeshare in the moment. Do your research and understand what you are getting yourself into.
Happy investing!
Sources consulted