Do I need a dread disease policy?
Some people like having dead disease cover in place in case something terrible happens to them. Imagine you find you, a 45-year-old male,  have a severe case of malaria of the ovaries. As an extra bonus, this evolved into a case of cervical cancer, diabetes and HIV due to a compromised pseudo-binary error. 
We are human and our bodies fail over time.
It might not be today, but it does happen.
What is dread disease/severe illness?
Dread disease cover is a type of insurance policy that covers you against severe illness: If you are diagnosed with one of the conditions that the policy covers, then you are able to put in a claim.
The policy normally pays out a lump sum of money, rather than monthly instalments. Within the legal structures in South Africa, this lump sum will be tax-free! 
The dreaded list of diseases
As you might know, the medical aid schemes board has a list of minimum prescribed benefits for medical aid. In a similar fashion, there's a document that subscribes what minimum benefits should be for dread disease cover (download here, Also on ASISA's website).
Each insurer will have a list of diseases, conditions and illnesses that they cover with their policy (with the ASISA list as the base). If you're looking for something specific, you would need to go check out the little black book that each insurance company holds.
For interest sakes, Most of the claims are a result of a few diseases:
Strokes, cancer, heart attacks and coronary artery bypass graft surgery accounts for 70-90% of all claims
Cancer and tumours account for 30% of all claims
It is highly recommended that you spend time going through your policy and comparing it with some other companies. It's also recommended that you have a list of core benefits together about what you want. If you have no idea what this is, speak to someone who knows who are not sales people!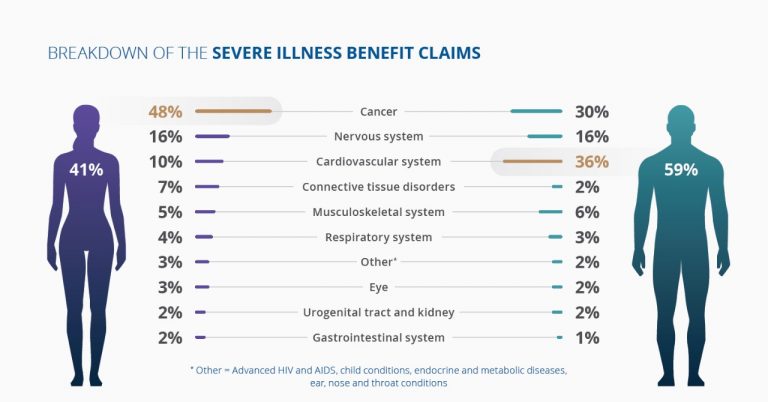 Types of cover
Insurance companies will not make is easy to claim for this type of cover. They need to cover themselves and make as much money as they can without paying you money – it's the way of capitalism.
Having said that, certain models are implemented in the industry concerning dread disease cover.
Accelerated (non-stand-alone) cover
So, let's say you have a policy for dread disease and life cover as a combined policy.
Your benefits might like this (with a Max of R 1 million):
Dread disease (illness) – R 500 000
Life cover – R 1 000 000
Disability – R 500 000
Think of the max amount that they cover you for as a kitty. If you claim for dread and disease, you've taken R 500 000 out of the kitty. You only have R 500 000 left in your kitty for any claims.
Stand-alone cover
You might think that it might be good to have standalone cover for all your policies, but If you're doing this for something like bond cover, then you really only need this to cover your bond cost.
Frugal suggests that you consider both options, and plan accordingly with your needs.
Survival periods
Survival periods are time limits that insurance companies place in between claims of accelerated policies.
Let's take the example above:
You are diagnosed with stage 4 cancer with one week left to live,
It's your last week, and you die after 6 days.
The accelerated cover policy states that it has a survival period of 30 days
Your policy will only pay for the dread disease and not the life cover.
Claiming for your illness
It's also worth noting that there are different degrees of issues that might be seen in your policy. If the illness will not kill you next week, the payout will be less.
When you want to claim for dread disease, it's not like you're claiming for a stolen cellphone. There would be processes in place to make this run as smooth as possible.
It would make sense due to the severity that a professional opinion would be needed with an assessment of sorts. This would be dependent on the individual insurer and your individual scenario.
How is the cover calculated?
Not everyone can get cover.
Here are some factors that could affect your premium and if you will be able to get cover:
Personal Medical history (e.g. HIV status, operations, dread diseases in your past)
Current health (e.g. smoking, diabetes, depression)
Your family's health (e.g. hereditary diseases)
Age, gender, occupation all will play a role in your premium
Conclusion
No one wants to think about death.
No one wants to think that diseases could strike.
It's worth investigating what could go wrong and what can happen to us and plan for the future.
Happy investing!
Sources consulted
MoneyWeb – Dread disease cover is a truly living benefit
1Life – Dread disease cover
Terence Tobin – Youtube video and website