What is growth hacking?
"A growth hacker is a person whose true north is growth."

– Sean Ellis (2010)
Small businesses have a fascination with growth – it's like they want to get funding, buy lots of stock and wait for the customer to walk through the door. Sadly, this is not the reality. Growth takes time and effort – and using the traditional ways such as spamming people to death to buy my stuff just doesn't work anymore.
Enter growth hacking.
In my opinion, growth hacking is something for companies and startups that have proven their core hypothesis: do people want what I offer, and are they willing to pay money for it? Once this has been established, you can use growth hacking to grow your business.
The history of growth hacking
Sean Ellis was looking for a replacement for himself in 2010. He asked for marketers to send him their CVs, but it wasn't what he was looking for. He was looking for someone whose life revolves around one thing: growth.
Many corporates build a product and then spam people through advertisements to buy what they offer. But small businesses and startups cannot afford this – spamming legally (advertising) costs money.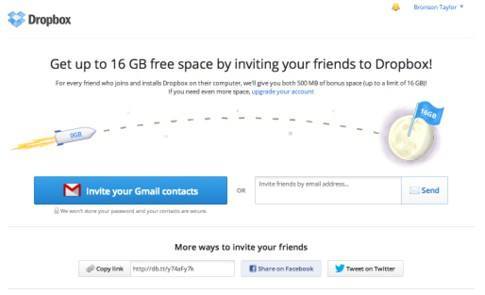 When Sean helped Dropbox get ahead in a very competitive market – not because they had the advertising budget, but because he looked at making strategic decisions that will boost take-up and customer acquisition. Below we have an example of how you can quickly invite friends and contacts to use Dropbox. Though it looked like an invite screen, market share was boosted exponentially!
Growth hacking core ideas
The core ideas of growth hacking are:
Don't waste money/time on things that are not important.
Make it easy, obvious and rewarding for people to sign up for your service and refer more people.
Use data to make sure your marketing aligns with your customer behaviour
The growth hacking process
Neil Patel and Ryan Daniel Moran (writer of "12 Months to $1 Million") has the same view when it comes to a growth hacking formula: Start with your client. As you immerse yourself into your target market, you will find a product that fits their unique need.
When connecting with people, you need to understand if they find your offering valuable – and if not, why not. In the process, we need to realise we have assumptions about what we think our customers want, need and value. Unless you have concrete proof of what this is, you're very much mistaken.

Growth hacking is about experimenting. It's about proving that things actually work – and having proof. I quite like this Trello board style testing cycle. I do however believe that there are certain things that you can do to reach your goals faster.
For this reason, it makes sense that a Trello board with the following columns should get you started: Brainstorm, Prioritize, Set Up Experiment, Testing and Analyze. You will be able to track your experiments better using this format.
Online growth hacking – tips and tools
Oftentimes we think about growth hacking as a few tickboxes and software that we need to use to get a bigger market share. As we can tell from the above, we know that it is a process of testing, refining and monitoring.
To get the information we need, we need data. It is thus understandable that data and data analysis are deeply embedded in the process of growth hacking. For this reason, the following tools are recommended for your process:
Google Analytics – to see analytics about people on your website
HotJar – to record what people are doing when interacting on your website
Zapier – integrations between different pieces of software
Trello (to keep track of what you're testing)
Growth hacking and my business
Let's be clear: there is not a one size fits all. Each business is different – but there are lessons we can learn from other industries, similar businesses and how they have scaled and grown their client base.
For this reason, I suggest looking into your sales process. For some people, it is as simple as standing next to the road and selling magwinya. For others, they need to educate their client to understand the process and value first. For example, in the property sphere, the agent needs to do an affordability check and pre-approval so that they know you're eligible to buy properties.
Once you understand your client acquisition journey, you can start optimising the journey.
Influencers and content creators
My overnight success took 3 years.
As a content creator with a bit of a following, I have been able to use a number of things to grow my following. These might not sound like hacks, but they are very specific actions that I have taken to grow and scale. Here are some of the things:
Bootstrapping: I tested the idea of a blog before actually starting one. Only once people started asking for my blog, did I created it.
I learnt about my followers through polls and analytics. I know who my followers are and what they like/don't like.
I make sure people know I am real. People love people, but they don't like corporate advertising.
Software development/Saas
For me, the hardest part of my software business was discovering who I am – and I am still discovering! Here are some of the things I did:
Leverage what you have – I use Frugal to connect to potential clients. I use my online reputation as leverage to get myself out there.
I create a 2-minute personalised video for my clients so that they know who I am and what I can do for them.
I talk about money early on. If the customer cannot afford me, I point them to someone in my network.
I offer a diagnostic first before I code. The reason is I need to spend time working with my client to figure out what they need. I use the tagline "don't spend R 2 mil to see if your idea will work"
Conclusion
The idea of growth hacking might seem foreign to many, but don't be disheartened. It's a mind shift: growth hacking is not about customer awareness and branding, it is about conversion of customers, it's about growth.
Whether you're a social media influencer, SaaS developer or have an online store – we can all learn from others in hacking our way to more growth.
Don't be discouraged tough – just enjoy the journey.
Happy investing!
Sources consulted