What is EasyProperties?
So, you want to invest in property, but you don't have the money? Well, EasyProperties have you covered. with EasyProperties, you're able to invest the money you have to get exposure to the property sector in South Africa. Easyproperties invests in residential properties within the borders of South Africa, and tend to buy multiple properties in the same sectional title block.
EasyProperties and EasyEquities
The EasyEquities platform allows (normal) people to buy shares, ETFs, crypto (through EasyCrypto) and retirement products and now property. The unique selling points are:
You can buy it yourself without going through expensive brokers or paying financial advisors a management fee.
You can buy fractional shares, meaning you're able to buy with what you have, rather than saving up to buy a whole share, which could be very expensive!
EasyProperties is a juristic representative of First World Trader (Pty) Ltd t/a EasyEquities which is an authorized Financial Services Provider (FSP number 22588).
This means that EasyProperties is part of EasyEquities. EasyEquities is a subsidiary of the Purple Group Limited (PPE), that is listed on the JSE.
How does EasyProperties work?
With EasyProperties, you own a fraction of a property
Property is expensive. To make the asset class more accessible, EasyProperties allow you to buy a fraction of a share of a property company. The company then owns the properties. This means you will jointly own the properties with multiple people. As you might know, EasyEquities works with fractional shares (CFDs). This enables users to buy shares for the money they have, rather than forcing them to buy a whole share. It's worth noting that some religions don't allow owning CFDs, as this is seen as gambling.
EasyProperties IPOs​
When EasyProperties find a property deal, they will do all the math, calculations and once decided that they want to go through with it, will register a company to manage its affairs.
This means you don't actually buy property. You buy shares in a company that owns the property. For example, with The Reid, the company is called "The Reid EPl3 Limited" with Registration number 2021/6200931/06. The company will then manage the property on your behalf, and pay you dividends if profit is made from the rental income.
Generally, 1 share is issued per R 1. This means if the total investment for a given deal is R 18 985 750, then there will be 18 985 750 shares issued.
To sell the shares, the company shares need to be made available to the public. This is done through something called an IPO – an initial public offering. If they reach their fundraising goal, the deal will continue. If not, then the deal will discontinue and all funds will be returned to the potential shareholders.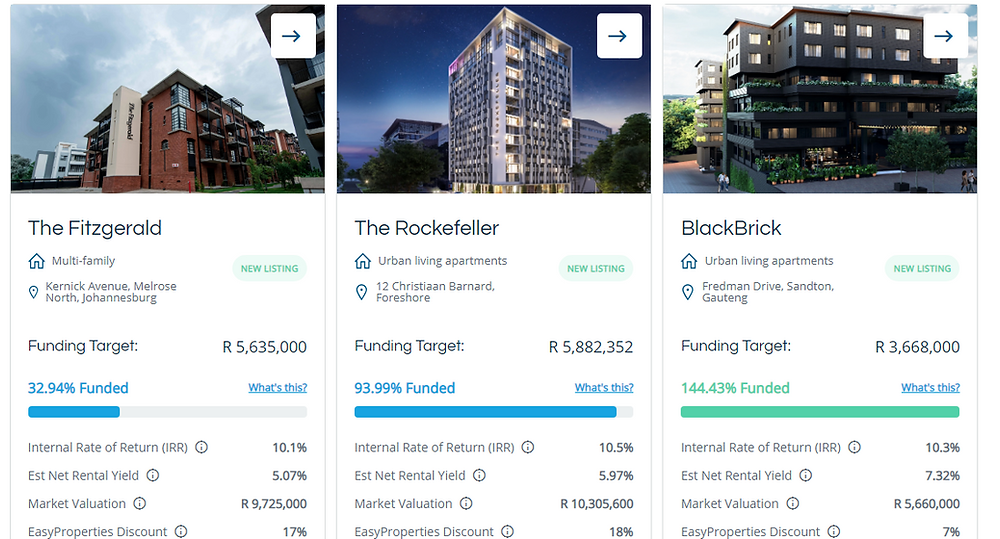 How do you make money from EasyProperties?
With property, you get capital gains of the property itself, as well as the rental income that the property pays.
EasyProperties pays out the rental income in the form of quarterly dividends to all the shareholders. They also have independent, professional evaluations are done every 6 months and adjust the share price at the auction accordingly.
Bid on the property shares you want – auctions
EasyProperties uses a bidding model for buying and selling shares in the companies. If you want to invest in a property, you can bid by entering the maximum amount you're willing to pay per share as well as the amount you want to invest. The top bidders will win the bid and be allowed to invest in the deal.
If you want to sell your shares, you are able to set a minimum amount that you are willing to accept for selling.
How can this be profitable?
As shareholders are invested in a company, this is one step removed from owning the actual property. This creates the following tax issue: The company needs to pay tax on all profits. The current tax rate for companies is 28% (as of 2021). When dividends are paid, the shareholder will need to pay a 20% dividend withholding tax. This means that just over 40% of the profits will go to tax.
Having been in the investment property sphere for more than 15 years, I personally have questions about how the company get this level of profitability that EasyProperties are generating. However the holding company, The Purple Group has historically been a solid company.
Knowing about tax breaks and how to make property profitable, I am of the opinion that EasyProperties uses tax breaks such as Section 13sex and writing off the bond interest against tax to make the deal more profitable. It is also quite possible that a bulk-buying deal is active between Balwin Properties and the Purple Group.
What are the fees?
The following fees are payable to EasyEquities:
a fee of 0.6% per year is payable as an Annual Platform Fee.
When buying/selling, a 1.5 % transaction fee will occur.
When buying into an IPO (new opportunity), a fee of 1% will be payable.
How do I activate EasyProperties on EasyEquities?
To activate EasyProperties, you need an EasyEquities account. If you don't have an account, you can join here. Remember that you will need to FICA, as required by South African law!
Once you have your EasyEquities account set up, the last item in the above banner will allow you to activate a nre account type. There is a banner that you're able to click to activate EasyProperties. Once active, you will see the menu item for EasyProperties. To deposit money, you can go to Menu > Deposits and follow the instructions while you have the EasyProperties tab active.
If you click on the "Invest Now" button, it will show you properties, IPOs and auction options. Make sure to read all the fine print and understand the terms of the investment!
Conclusion
EasyProperties gives the normal person on the street the opportunity to buy shares in bricks and mortar property, without the heavy tax burden of submitting your rental income to SARS. This is achieved by buying shares in a company that owns the property. This company will pay out dividends which already deducts all tax payable.
The auction method is used to gauge supply and demand. It assists in
Sources Consulted