Weddings shouldn't be expensive
Weddings on a budget doesn't have to look cheap. With innovation and a bit of creativity, one can really go a long way in planning your ideal day without sacrificing the beauty and meaning of the special occasion.
The issue we find is rooted in our society: we are expected to have a wedding that costs R 2 000 000 000 000 to make the guest happy. This should never happen at the cost of the bride and groom but often does. 
As frugal, I recommend having the perfect day that you want. You need to live with the memories fo your wedding day more than anyone else, and thus it is wise to spend money wisely on this day.
I do not deny that weddings can be expensive. 
I do believe however that we can make better choices of what's important to us.
This will dictate our spending and wedding budget.
Shortly after me and my wife got engaged, her best friend took her to a wedding show with loads of stalls and services ranging from custom garters, caterers, venues and wedding dresses.
Everyone made it clear that you 'cannot get married without' their unique product or service. 
Who decided their product is vital in getting married?
At the lowest level, when getting married, you only need to get a legal marriage certificate. Everything else is a want.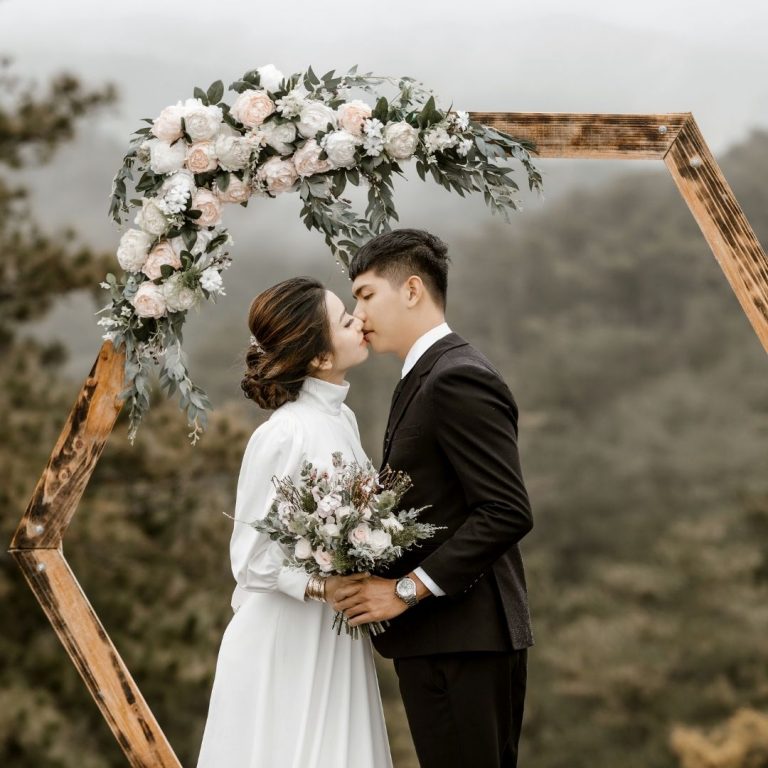 Though I know your family will probably never allow you to get married without a ceremony, you need to realise that you are in control of the wedding. You are in control of your life and what you want to do. 
I do want to encourage you to rather spend the money on the honeymoon. The wedding is hardly ever for the bride and groom – it's 99% of the time for the guests. I didn't even eat at my wedding: I was so busy with friends and relatives, that my best man had to store some food away for me for later eating.
These days, the wedding couples pay for the wedding themselves. This is of course, unless you are Chinese, where the guests need to pay a small fortune to attend the wedding. 
To make the best of what you have, you would need to set up a small budget. This is just a list of everything you think you need or want. Once you have this list, you can start with allocating money to it.
Here is an example fo a wedding budget:
Wedding dress
Venue
Food/Drinks/Table things
Rings
Flowers
Pastor/Legal paperwork
Photographer
Once you have these all inked down, you can rate these in order of importance to you. 
Allocate a percentage of the budget to each element.
This will then be what you can spend on that thing.
Remember: if you're spending more money that allocated, it means that thing takes higher priority on your list.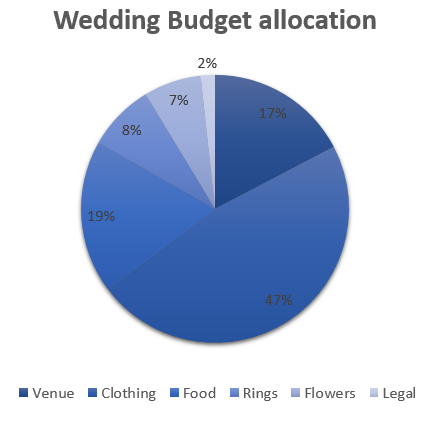 The big cost items for your wedding
Some items cost more. These tend to be the following: venue, food, clothes (wedding dress, groom outfit, etc.) , flowers, and photographer. 
When searching for a venue in your budget, it's important to check the following:
Venue hire cost
Is external food allowed? 
How does the price differ for a morning/evening wedding by day/season? 
Ask about the facilities for the ceremony/reception 
Your wedding venue options are:
Rent a wedding venue ($$$$$)
Rent an events hall – you might need to bring your own crockery/cutlery ($$$)
Rent a church/school/guest house facility ($$)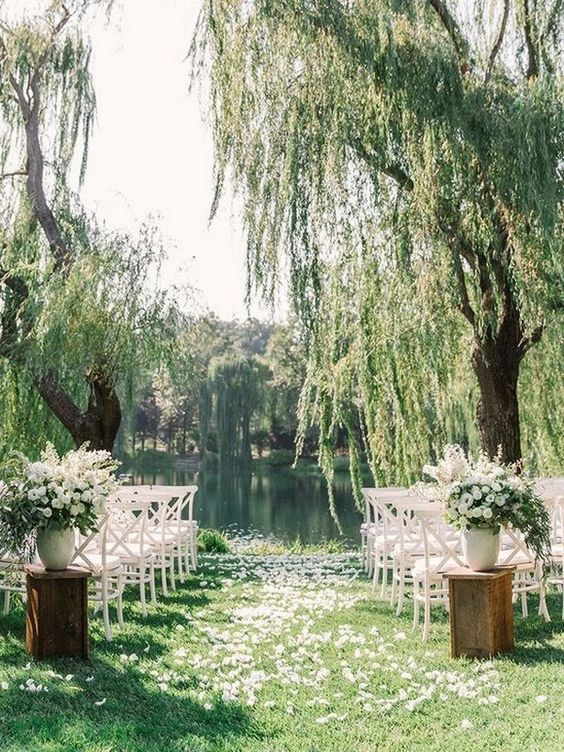 Clothes (wedding dress, groom outfit, etc.)
Every lady wants to look like a princess on their wedding day – and dress the groom in the clown outfit to suit their fancy. Though I am sure you know already, you don't have to pre-make a fancy dress. Remember – you will only wear this dress for one day. Here are some options:
Wedding dress:

Second hand ($$)
New ($$$)
Custom made ($$$$$$$, unless made by a family member or friend)

Groom clown outfit

Wedding shop ($$$)
Woolies ($$)
Other ($)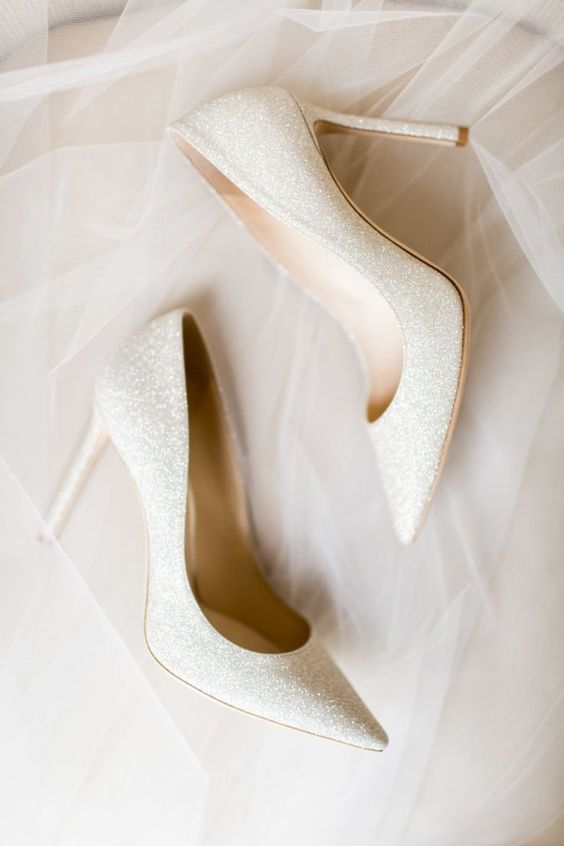 Modest food options for food at your wedding
There is not a one size fits all when it comes to food. Some weddings tend to focus on quantity whereas other by quality. I have added dollar signs below to get an idea of what things cost.
Mid-morning wedding with breakfast

English Breakfast ($$)
Continental Breakfast ($$)
High tea – coffee, tea, cake, muffins, etc. ($)

Lunch wedding

Canape platters/finger foods – not sausage rolls! ($$)
 Spitbraai – ($$$)

Evening wedding

Traditional carvery roast with side dishes ($$$$)
Spitbraai/Braai with side dishes ($$$)
Spending a reasonable amount on flowers
Flowers can be exceptionally expensive – especially when you want a certain colour or type. Often people want flowers on the reception tables, in the church and (of course) the bouquet.
Remember, you don't need to have flowers in all these locations. If you keep flowers to a minimum, you can spend the money in other places. You could for argument's sake, only have a bouquet!
Here are some ideas:
Ask a relative to do the flowers for you
Place seasonal flowers and/or plants on the tables,

consider cacti, eucalyptus and penny gum

Use flowers that can be found in the area – e.g. don't use proteas in Johannesburg.
Consider buying your flowers directly from the flower market (each big city has one)
You do need someone to do hair and makeup – but seriously, it's not necessary to have the best person in the country. There are many people with excellent skills at good prices!
When choosing a photographer, always ask for a portfolio of work when asking for a quote. Be careful of quotes that are too cheap, as your photos will be one of the few things you will have to remember your wedding by. 
Get as many quotes as you can. 
Remember, you can negotiate with the photographer about the number of hours and edited photos. You could always get the RAW JPG files from them and get it edited at a later stage when you have the money.
Traditionally in the white culture, there will be an engagement ring and a wedding ring. The two rings could cost loads of money. You will need to wear this on your finger for the rest of your life, so choose something that is small and will not catch on table cloths, etc. It's also worth considering that you will need to have insurance on the ring – and expensive ones tend to cost more.
When looking for a diamond ring, always check the cut, clarity and colour of the ring. Again, it is worth shopping around. 
Other wedding considerations
There are many smaller cost items that you should consider. These are often the things that cost a bit more. Consider the following:
Transportation of guests and the couple
Invitations – why not design them yourself or use something like Canva to design it?
Guest gifts – we just gave away cacti plants in small tins
Signage – if you're opting for a seating plan and wording that people will sing, these can be sent digitally these days. 
Alcohol – traditionally the groom needs to pay the alcohol at the wedding. It can always be an option to have either non-alcoholic or grape juice at the wedding. few people remember the alcohol on a wedding, which is normally revolting.
Free wedding budget template
I know that one article isn't nearly enough for a full wedding planner.
I have thus added a wedding budget for you to download.
Though I cannot cover everything in-depth, there are options for a beautiful cheap wedding. 
With mine, we had a budget of R 30 000 and was able to have the most amazing canapes for a morning wedding at a guest house for about 130 guests. 
It's 100% possible to have a frugal wedding that will not break the bank. 
It is simply a matter of trade-offs. 
Happy investing!
Frugal Local runs his own company (Effectify). He does software development and helps small businesses and startups with digital solutions. He enjoys writing articles and simplifying complex things – such as the article you're reading!